---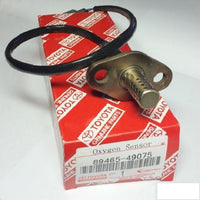 Sale
TOYOTA LEXUS FRONT Up
stream 
OXYGEN SENSOR Brand new.
 air-fuel A/F ratio sensor
All model one price, Please contact me or leave your car model on the comment box when you check out, we will match the part for you. If not fit, we can arrange a refund or swap.
RANGE OF MODEL:
Camry, Mark X, 86, C-HR, FJ Cruiser, Land Cruiser, Land Cruiser Prado, Hilux, Corolla, Prius V, Estima, Auris, Hiace, Previa, Wish, Fortuner, RAV4 and all other TOYOTA model.
part number:
89467-35040, 89467-60010, 84645-12380, 89647-33090, 89465-49065, 89465-39405, 89467-06030, 89467-33040, 89467-41030, 89467-35060, 89467-35011, 
89467-41040, 89467-48011, 89476-41021, 89465-06050, 89465-06100, 89465-06020, 89467-34011, 89467-33080, 89465-06010, 89465-39835, 89467-33020, 89467-71020, 89467-41011, 89467-12010, 89465-33220, 89465-13030,89465-06120, 89465-06250, 89467-08040
Customer Reviews
Highly recommend
Good and after pay